Botanica by Qualex-Landmark
Botanica by Qualex-Landmark: A low-rise condominium community in the Burquitlam neighborhood of West Coquitlam, featuring three 6-storey buildings and a 4-storey stacked housing building, comprising a total of 239 homes.
"A trusted name in construction", Marcon Construction will oversee the construction of this community.
Botanica will be the first major low-rise condominium launch in the Burquitlam neighborhood in nearly a year.
Developers Thoughts:


"Botanica has been designed to fit seamlessly into the burgeoning neighbourhood of West Coquitlam, to further enrich the community and act as a vibrant hub for everything the city has to offer."


"With access to Burquitlam SkyTrain, YMCA, Burnaby Mountain hiking and biking trails, Simon Fraser University and other educational facilities of all levels— the Oakdale neighbourhood is perfect for all stages of life."


"From inside the home, to shared spaces, and the surrounding Oakdale neighbourhood—Botanica's biggest asset is sheer convenience."


"A proposed coffee shop located in the southwest corner of Botanica creates an additional gathering place and hangout for residents, as well as the broader West Coquitlam community."



Top Building Features:

"Botanica's four buildings have been oriented to maximize views, access to sunlight, and airflow."


"Almost a quarter of Botanica's grounds are dedicated to outdoor space. Generous greenspace provides multi-usage recreational areas to socialize, grow food, connect with nature and benefit from outdoor activities, all within the confines of your own home.





"Community-inspired features continue into Botanica's interior shared spaces, punctuated by a lobby, social lounge, and adjacent co-working space designed to be accessible and comfortable."




"Botanica features a children's playroom with dedicated areas for crafting, a mini library, and games for quality time with those who matter most."


"Open shelving and generous pantry space provide ample storage, while quartz countertops and Bertazzoni appliances give you everything you need to host family and friends."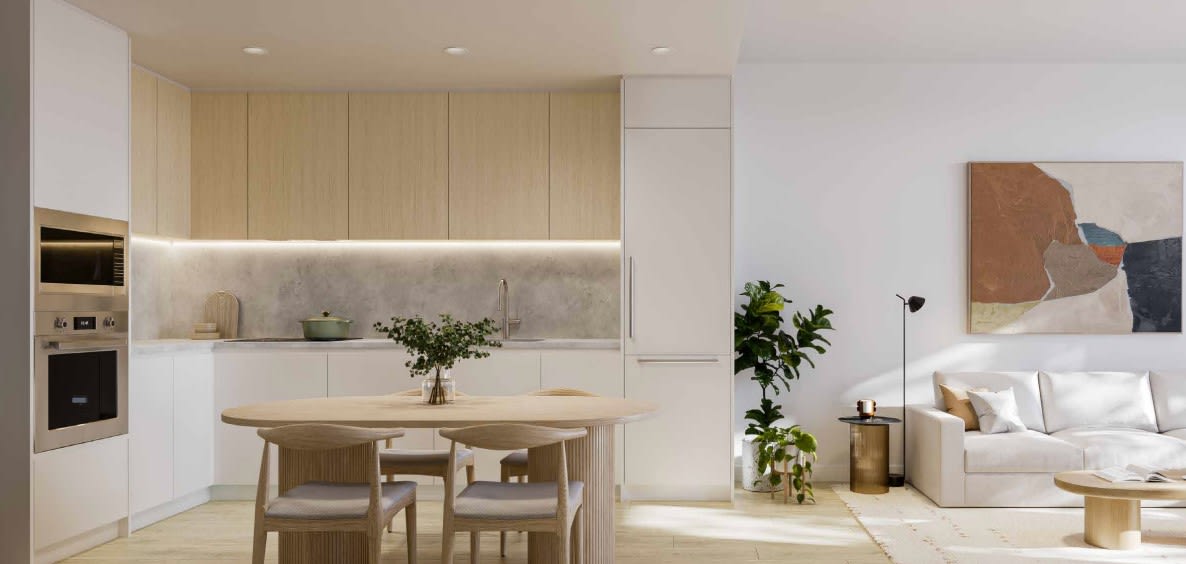 Developer reputation:


"Qualex-Landmark™ is a Vancouver based development group that has been building boutique residences for over 30 years. Our portfolio is defined by quietly iconic residential communities, born out of our highly detailed approach to development."

"Twenty-three outstanding communities speak for themselves, notably: Domus, Pomaria, Green on Queensbury, Legacy on Dunbar and Artesia in British Columbia, and Park Point in Alberta."


Development Details


Total Homes | 239
Storeys | three 6-storey buildings
Completion Date | 2026
Deposit | TBD
Assignment Fee | TBD


Starting Prices


1 Bedroom + Flex | 555 - 605 SF | From High $500's
2 Bedroom | 808 SF | From High $700's
2 Bedroom + Flex | 870 - 985 SF | From High $800's
3 Bedroom | 1,053 – 1,111 SF | From High $900's
Townhome: Two Bedroom | 1,026 – 1,054 SF | From Below $1.1M
Townhome: Three Bedroom/ Three + Flex | 1,237 – 1,350 SF | From High $1.2


Manraj's Thoughts


Best value for a new condominium in the rapidly expanding, transit-oriented Burquitlam community (West Coquitlam).


A trusted development and construction team that ensures peace of mind for your investment.


Modern and distinctive amenities, enhancing the resale value in comparison to other available homes.


Amidst a sea of high-rise developments, a unique low-rise option sets your investment apart from other buildings in the community.


Shorter construction timeline and potential for a more flexible deposit structure compared to concrete high-rise presale offerings.


Strong fundamentals in the rental market, making it a great opportunity for investors seeking a secure investment.


A community dedicated to investing in infrastructure and amenities.


High demand for newer properties, as Burquitlam (West Coquitlam) remains a top choice for first-time buyers and young families across Metro Vancouver.


Extremely competitive pricing in contrast to other presale projects currently available and recently completed products in the area.


Great opportunity to purchase a building slated to complete in 2026 (2.5 years from now), but for the price of recent comparable resales (as of October 2023).