Dawson Sawyer seeks approval for Metro Vancouver's largest low-rise community in Surrey's Newton Neighbourhood
Surrey-based Dawson Sawyer is seeking approval for its 36.3-acre development site located adjacent to King George Boulevard.
The development proposal outlines the construction of 20 buildings, totaling 3,243 homes. The buildings will vary in size, ranging from 4 to 6 storeys, with street-fronting commercial (retail) space along King George Boulevard and along a new 2-acre city park being built in the center of the community.
The site will feature approximately 2.7 million square feet of residential space. For comparison, Westbank's Oakridge re-development features 2,600 homes and 1 million square feet of residential space.
"The buildings engage the public realm through their ground floor active frontages containing either at-grade commercial storefronts or residential units with raised private patios connected directly to fronting sidewalks."
The Council has approved the 1st and 2nd readings of this application. It will now proceed to a Public Hearing scheduled for December 4, 2023.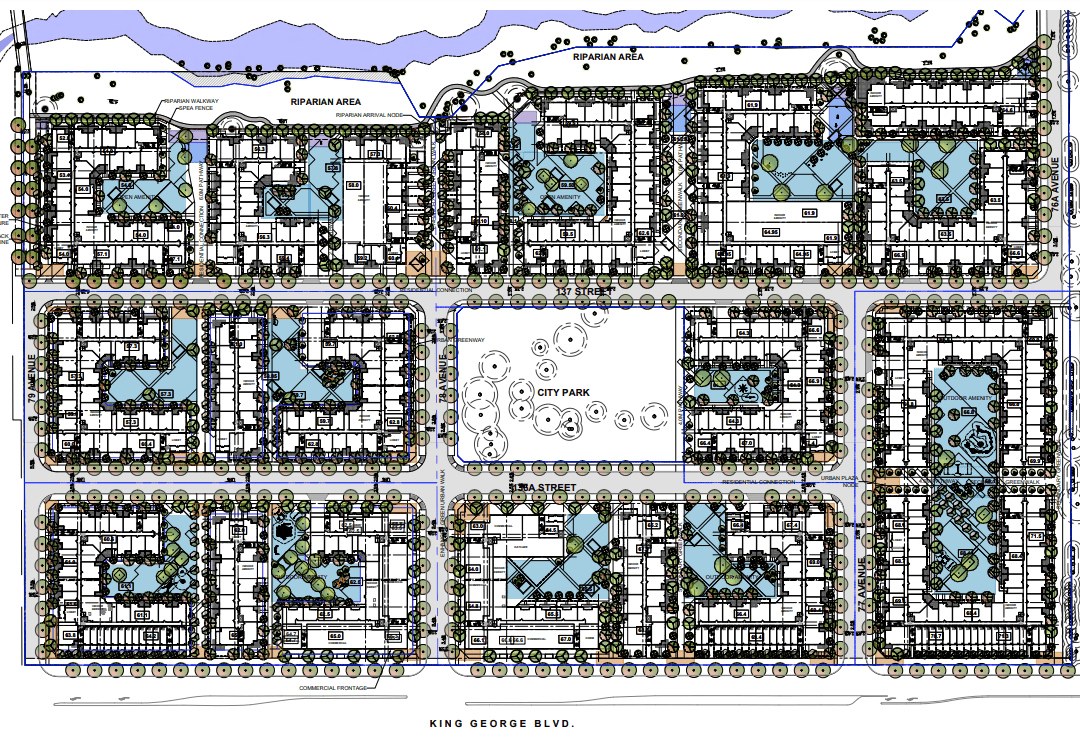 This upcoming development is poised to be a welcomed addition to the Newton neighborhood, especially considering the scarce supply of affordable real estate in the area. Notably, Newton boasts one of the highest proportions of new immigrants. Positioned centrally, this community remains a magnet for individuals new to the country, seeking to establish themselves in Metro Vancouver.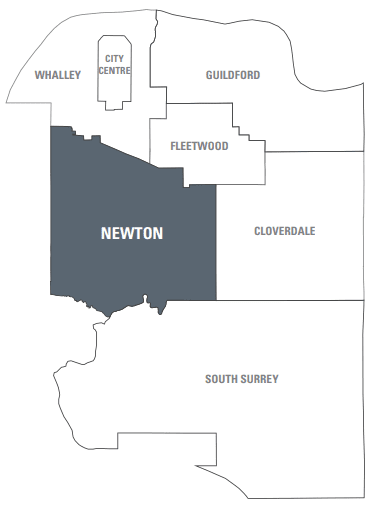 Check out this Newton Community Profile for more stats and information on the neighbourhood: Newton Neighbourhood Profile
Its proximity to King George Boulevard and transit-friendly features make it an ideal location for renters, families, young professionals, and seniors alike.
King George Boulevard is a major arterial road and is a Translink Frequent Transit Network (FTN) route. The King George Boulevard corridor currently has Rapid Bus, and there are discussions on having Bus Rapid Transit (BRT) on King George Boulevard in the future.
"All homes will be currently located within 200m of two R1 Rapid Bus Stations. King George Boulevard is a Frequent Transit Route and incentive to be prioritized in future over improving public transit networks like future Skytrain."
Unit Mix:
Studio: 161 (5%)
1-Bedroom: 1,622 (50%)
2-Bedroom: 1,135 (35%)
3-Bedroom: 325 (10%)
Total: 3,243
The application indicates delivery of homes ranging from 2029 to 2037: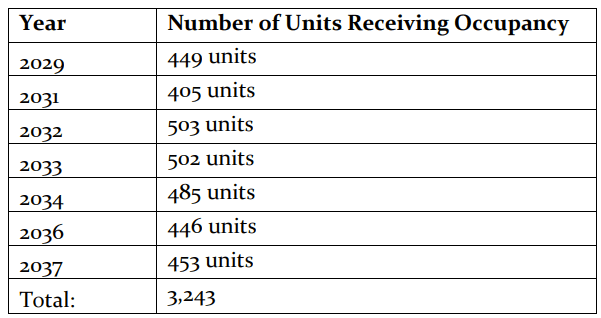 The development will be split into 3 distinct sections: Creekside, Central, and Urban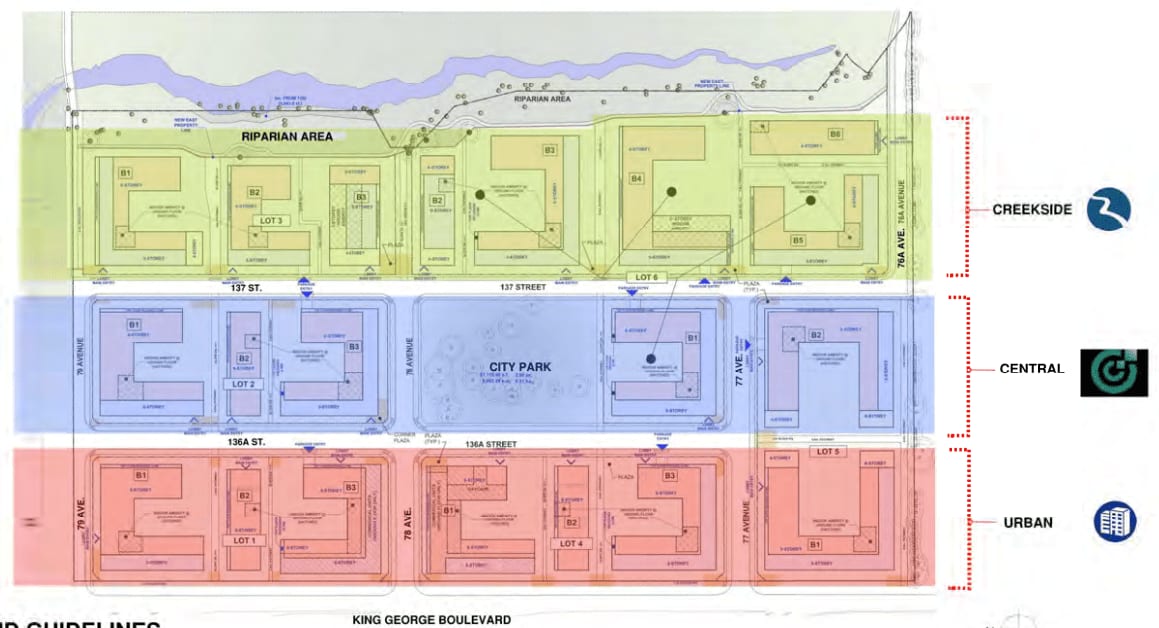 Urban Node
"The "Urban" node will be the most urbanized area of the community. It will feature the main entrance to the development at King George Blvd. and 78th Avenue, which will feature local shopping and retail experiences, as well as a daycare."
Central Node
"The "Central" node will be the middle of the site with a balance between the "Urban" node to the west and "Creekside" node to the east. It will feature a central park as a featured gathering space to bring the entire community together."
Creekside Note
"The "Creekside" node will be the most easterly node and will provide the future residents and community members with direct engagements to Hunt Brook Creek through a series of public walkways and various open spaces."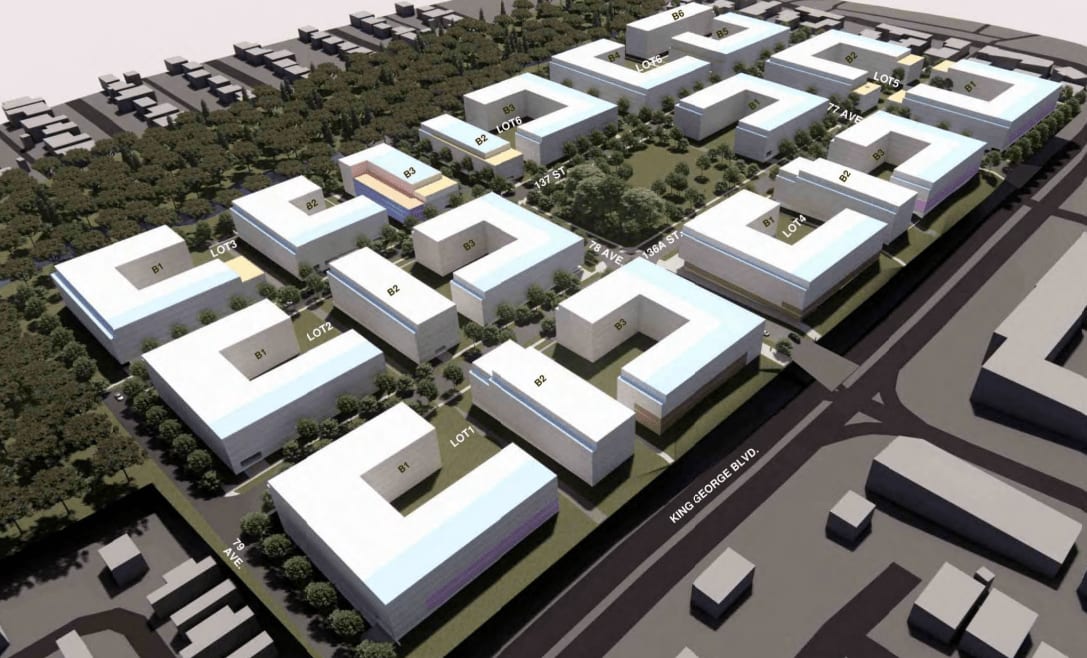 Summary of Development Details:
Lot Size: 36.3 acres
Gross Buildable: 2,784,645 square feet: 2,752,191 SF of residential & 30,500 SF of commercial
Total Homes: 3,243
Height: Ranging from 4 to 6-storeys
Total Density: 1.77 (gross); 2.57 (net)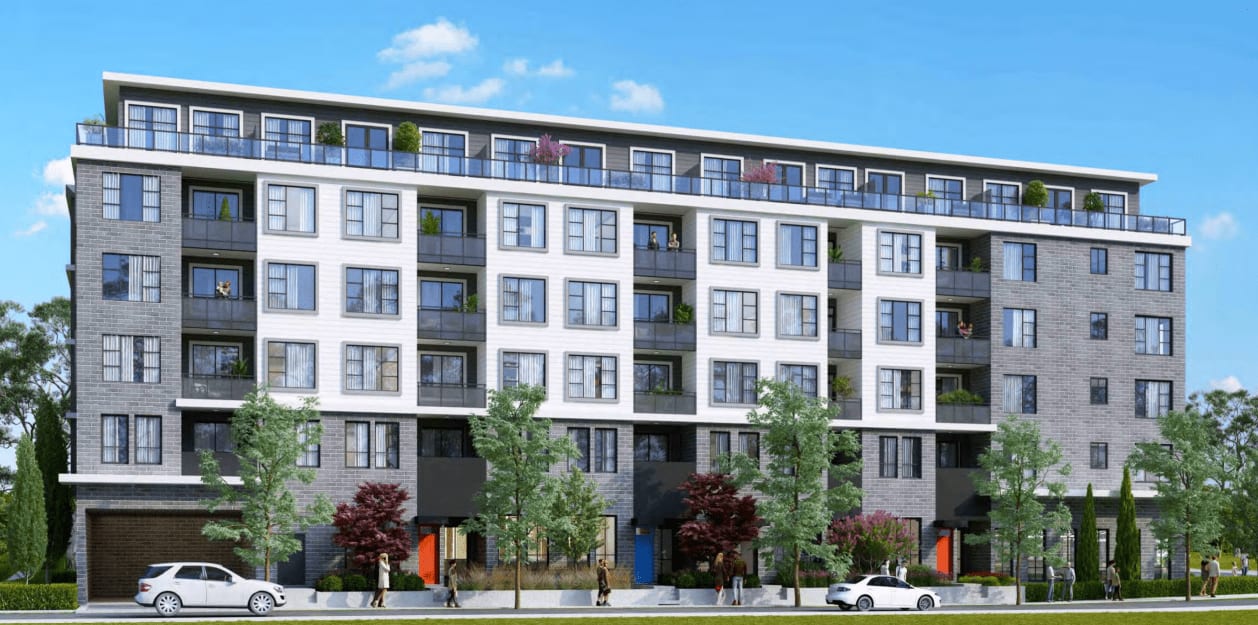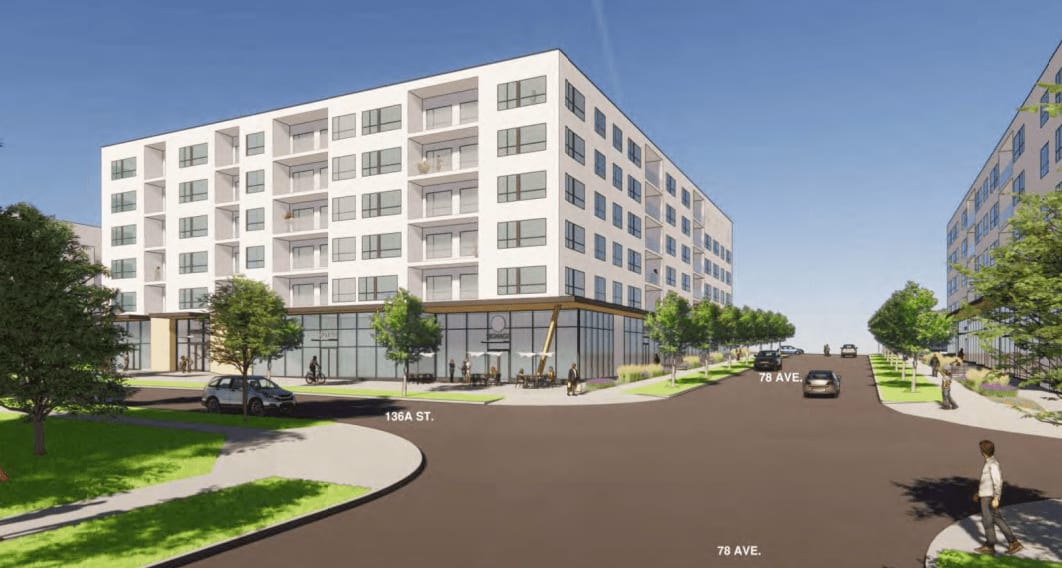 Dawson Sawyer
The company has established itself as a specialist in developing properties along Surrey's key transit routes. Notably, Dawson Sawyer is actively involved in the ongoing construction of its Fleetwood Village master-planned community, introducing hundreds of new entry-level condos and townhomes to the market over the past several years. This will also be Dawson Sawyer's third King George Boulevard project along this stretch in Newton.
Link to full land use application: Dawson Sawyer King George Blvd.
More information to follow as application moves through the approval process.